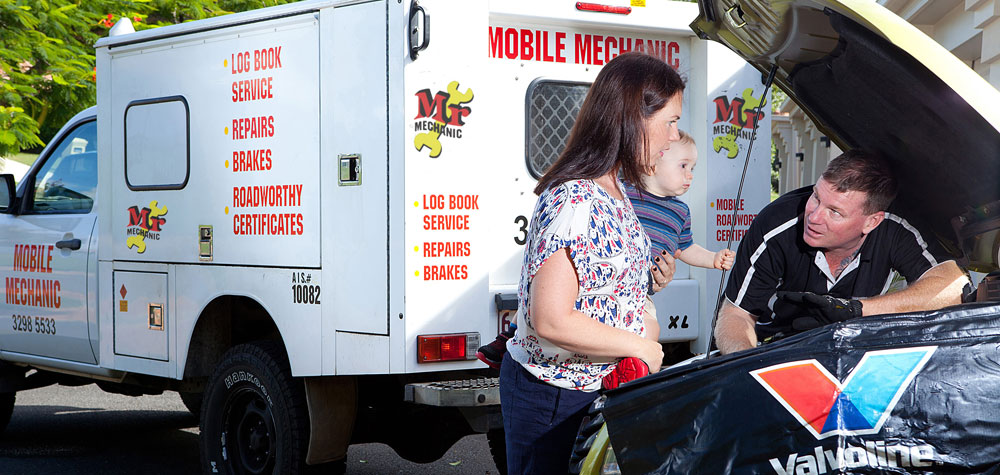 Ipswich Roadworthy Mobile Service
  Ipswich Mobile Roadworthy Certificate.
   Ipswich RWC. We can beat any price.
  FREE QUOTE ... use form above!
  We do mobile roadworthy and safety certificates.
  Best Price In Ipswich for Mobile Roadworthy RWC !
Mobile Roadworthy Ipswich
Ipswich Mobile Roadworthy Certificates
Mobile Roadworthy RWC and Safety Certificates
Relax and let Mr mechanic Mobile Mechanics issue your Roadworthy Certificate, also known as RWC or Safety Certificate, at your home or work.
Cars not registered !! Not a problem. We carry "dealer" plates and are fully approved by Qld Transport as an Authorised Inspection Station(A.I.S).
One of our Fully Qualified Mechanics can carry out a Mobile Roadworthy Certificate at your home or work when it suits you.
We carry out inspections right across the Brisbane and Ipswich regions. From Caboolture/Morayfield in the North of Brisbane to Beenleigh/Logan/Jimboomba in the South and anywhere in between. We cover Ipswich/Springfield/Redbank Plains to the west and Bayside suburbs such as Cleveland/Ormiston/Capalaba to the East.
No matter what suburb, we aim to provide a fast efficient service to help when you are selling or transferring your car's registration. We are usually able to book you in same day or next day as required, but the more notice you give, the better.
*Our inspectors are licenced to do Roadworthy or Safety inspections on cars and light commercials and trailers.
Please note: Some areas may attract a surcharge to cover extended travelling costs.
F.A.Q. from QLD Transport
WHAT IS A Roadworthy Certificate?
In November 1999, the safety certificate replaced the roadworthy certificate. Yet everyone still calls them Roadworthy Certificates or RWC.
A roadworthy certificate covers basic things that could affect the safe operation of the vehicle, such as:
tyres
brakes
steering
suspension
body rust or damage
windscreen
lights
The roadworthy certificate is designed to offer buyers better protection. A vehicle with a roadworthy certificate has undergone a safety inspection before being offered for sale, so buyers can be sure the vehicle is safe to drive. This means there will be fewer unsafe vehicles on Queensland roads, reducing the likelihood of crashes caused by defective vehicles.
WHAT VEHICLES MUST HAVE A ROADWORTHY CERTIFICATE?
In Queensland you must obtain and display a roadworthy certificate on any registered light vehicle from the moment you offer the vehicle for sale. Vehicles include cars, motorbikes, caravans, trailers 0.75?3.5 tonnes (t) aggregate trailer mass (ATM) and any other vehicles up to 4.5 t gross vehicle mass (GVM).
WHEN CAN VEHICLES BE SOLD WITHOUT A ROADWORTHY CERTIFICATE?
The only time vehicles do not require a certificate is when they are unregistered or when they are traded to, or between, licensed motor dealers. Vehicles can still be sold for parts or restoration, but they must be de-registered before being offered for sale.
WHO ISSUES ROADWORTHY CERTIFICATES?
Roadworthy certificates can only be issued by approved inspection stations. These are service stations, garages or workshops which have been approved by the Department of Transport and Main Roads to conduct inspections.
DOES THIS APPLY ALL OVER QUEENSLAND?
You need a roadworthy certificate to sell used vehicles in most parts of Queensland. Some rural and remote areas are exempt. Phone the Department of Transport and Main Roads on 13 23 80 for more information.
HOW LONG ARE ROADWORTHY CERTIFICATES CURRENT FOR?
Make sure certificates are current. For dealers, certificates are valid for three months or 1000 kilometres (whichever comes first) from the date of issue. For private sellers, safety certificates may be used for one new registration and one transfer of registration provided they are within the two months or 2000 kilometres limit, whichever comes first. A new safety certificate is required each time you sell the vehicle even if it is within the two months or 2000 kilometres. A single roadworthy certificate cannot be used for two transfers.
WHAT ARE THE ROADWORTHY CERTIFICATE CONDITIONS OF USE?
A roadworthy certificate cannot be used for more than one transfer. This means if you are selling a used vehicle and have obtained a roadworthy certificate for this vehicle, the person who buys this vehicle cannot then use this certificate if they sell the vehicle. Also, the roadworthy certificate cannot contain any alterations.
DISPLAYING ROADWORTHY CERTIFICATES
Roadworthy certificates must be displayed in a very obvious place, for example:
car ? windscreen or window
If you fail to display a roadworthy certificate on the vehicle from the moment you offer it for sale you may receive an on-the-spot fine of A$550.