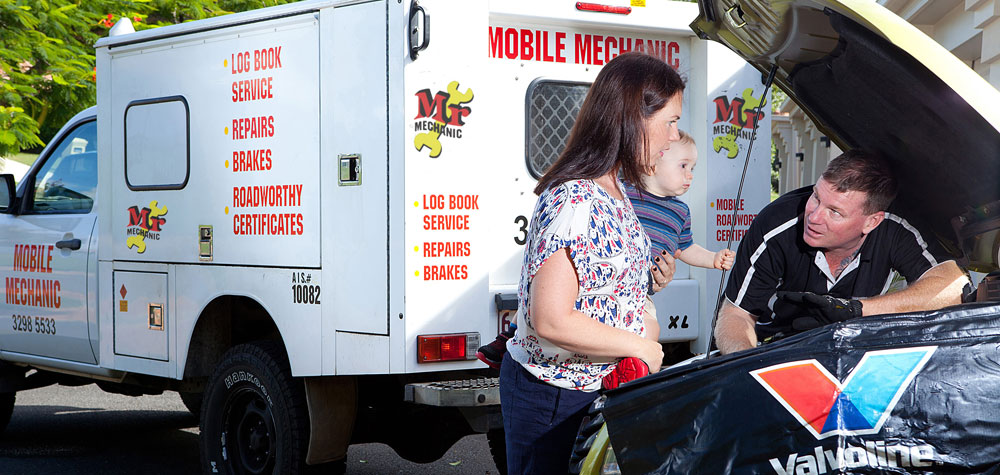 Brisbane Mobile Mechanic.
  We can beat any price.
  Use the above QUICK QUOTE form now!
  We do mobile log book servicing.
  Your new car warranty is safe!
Mobile Car Service Brisbane
What price for mobile car service in Brisbane.
Depending on your make of car we have FIXED PRICE car servicing in Brisbane from just $189. If during servicing your car we find any other things that need repairing we will give you a FIXED PRICE QUOTE and stick to it.
Is your new car warranty safe?
Yes it is. Mr Mechanic mobile mechanics only use approved parts which means your new vehicle warranty is safe and remains valid.
What if I need other repairs? What does that cost?
Our mobile mechanics will often notice you may need additional repairs. This is never good news for any of us, as nobody we have met likes spending money on car repairs. 🙂
So the way we handle this is give you a list of exactly what needs doing and then encourage you to call an other mobile mechanic and get a quote.
Once you know what their price is - we will ALWAYS charge you less for exactly the same parts and labour.
Please send a QUICK QUOTE form (see top left corner) and we will help you work out a great price for your mobile car service.